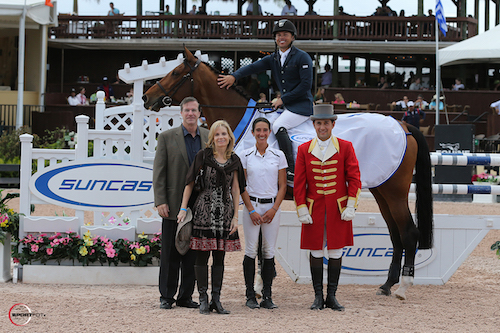 Week seven of the 2015 Winter Equestrian Festival (WEF), sponsored by Suncast®, concluded on Sunday with the $85,000 Suncast® 1.50m Championship Jumper Classic featured in the International Arena at the Palm Beach International Equestrian Center (PBIEC). USA's Kent Farrington was the winner with Amalaya Investment's Waomi in a 17-horse jump-off over Tiffany Foster (CAN) and Artisan Farms LLC's Tripple X III. Beezie Madden (USA) and Abigail Wexner's Vanilla placed third.
Course designer Steve Stephens' (USA) finished out the week with 75 entries in the 1.50m competition. Out of 17 to advance to the jump-off, the short course only saw six double clear rounds. Farrington, Marie Hecart (FRA) and Charlie Jacobs (USA), all made it through to the tiebreaker with two horses.
Hecart jumped double clear rounds with both her mounts to finish fourth and fifth. She guided Rogelio Pellerano's Quatuor de B Neville to the first clear in 42.11 seconds to place fifth. She jumped later with Sarl Ecurie Sens O Riel's Vatson Sitte to place fourth in 41.25 seconds. Madden was third with Vanilla in 38.42 seconds. Foster and Tripple X III were second with their time of 37.67 seconds, and Farrington jumped to victory with Waomi in the fastest time of 36.47 seconds.
Waomi, a 12-year-old Dutch Warmblood mare (Lupicor x Boreas), showed last year with owner Meagan Nusz, and Farrington started competing the mare in the fall in Harrisburg and Lexington with top finishes. She had some time off and then picked up again with Farrington at the beginning of the WEF circuit.
"I showed her at the beginning and she was third in the WEF (Challenge Cup) during week two and she also placed in the grand prix that week," Farrington detailed. "Then I gave her a little rest again and now I am kind of picking it up. My plan was to do this 1.50m, do the WEF (Challenge Cup) next week and then one of the grand prixs at the end."
"She is a really interesting horse," Farrington stated. "She is a little particular. She has her way that she wants to go. I have no martingale on the horse because she prefers to be really free and go in her own style, but she is very careful and quite fast, so she is a lot of fun to ride."
Farrington went first with Robin Parksy's Gazelle in the jump-off, but had one rail down. He then returned with Waomi immediately after Tiffany Foster had jumped into first with a very fast time aboard Tripple X III. Their lead was short-lived, however, as Farrington and Waomi galloped through the timers over a second faster.
"I rode my other horse first, who is very green for a jump-off like that, and I thought she went very well," Farrington noted. "Then Tiffany went and was very fast. I didn't see her round, but I saw her time and that sounded very fast to me. I have seen her on that horse before, and I know that he covers a lot of ground. He is a quick horse, so the jump-off with Waomi was really just to take a shot. She also has a big stride, and I just kind of let her have a run at it."
The Suncast® 1.50m Championship Jumper Series, always an exciting and competitive division throughout the 12-week WEF circuit, will now have a fantastic prize for the leading rider of the series. Suncast® will provide a pre-paid two-year lease on a beautiful new 2015 Range Rover Evoque.
During WEF 12, the Range Rover Evoque will be on display at the Spectator Entrance of the Palm Beach International Equestrian Center and will be on course in the International Arena during the $100,000 Suncast® 1.50m Jumper Championship Series Final (Round 2) to be held on Saturday evening, March 28, 2015, which is when the Evoque will be awarded to the series' leading rider.
Series specifications and rankings can be found in the WEF Horse Show office. The top riders in the series will be recognized on the new Suncast® 1.50m Jumper Championship Series leaderboard by the PBIEC Exhibitor Entrance and will also be included in the WEF Weekly Wire, the printed newsletter available on the show grounds and online at www.PBIEC.com.
Winter Equestrian Festival: Final Results: $85,000 Suncast® 1.50m Championship Jumper Classic
1. WAOMI: 2003 KWPN mare by Lupicor x Boreas
KENT FARRINGTON (USA), Amalaya Investments: 0/0/36.47
2. TRIPPLE X III: 2002 AES stallion by Namelus R x Cantango
TIFFANY FOSTER (CAN), Artisan Farms LLC: 0/0/37.67
3. VANILLA: 2002 Danish Warmblood mare by Nabab De Reve x Clinton
BEEZIE MADDEN (USA), Abigail Wexner: 0/0/38.42
4. VATSON SITTE: 2005 Belgian Sport Horse stallion by Cardento x Chellano Z
MARIE HECART (FRA), Sarl Ecurie Sens O Riel: 0/0/41.25
5. QUATUOR DE B NEVILLE: 2004 Selle Francais gelding by Col Canto SF x Rosire HN
MARIE HECART (FRA), Rogelio Pellerano: 0/0/42.11
6. COCO BONGO: 2005 Rheinlander stallion by Caretino x Calido
ERIC LAMAZE (CAN), Artisan Farms LLC: 0/0/43.44
7. ADARE: 2005 KWPN mare by Royal Bravour x Burggraaf
LAUREN HOUGH (USA), Paris Sellon: 0/4/38.37
8. LEAP OF JOY: 2001 Holsteiner gelding by Lovari x Silbersee
CHARLIE JACOBS (USA), CMJ Sporthorse LLC: 0/4/38.72
9. FLAMING STAR: 1999 AES gelding by Fairman x Unknown
CHARLIE JACOBS (USA), CMJ Sporthorse LLC: 0/4/40.29
10. GAZELLE: 2006 Belgian Warmblood mare by Kashmir Van Shuttershof x Indoctro
KENT FARRINGTON (USA), Robin Parksy: 0/4/40.67
11. VAL D'ISERE: 2002 KWPN mare by Hors La Loi II x Polydox
FERNANDO COSTA (BRA), Fernando Costa: 0/4/41.75
11. ABUNOLA: 2005 KWPN mare by Numero Uno x Voltaire
LUIS PEDRO BIRABEN (ARG), Luis Pedro Biraben: 0/4/41.75
Photo Credit: Photos © Sportfot, An Official Photographer of the Winter Equestrian Festival, us.sportfot.com. These photos may be used only in relation to this press release and must include photo credit.