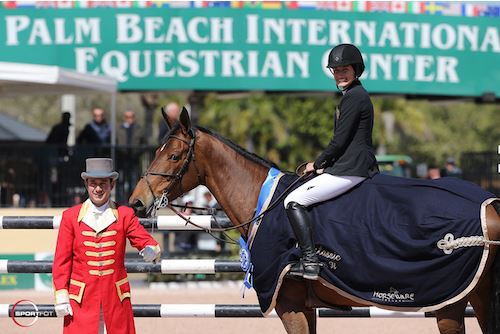 Jessica Springsteen (USA) and Stone Hill Farm's Davendy S jumped to victory in the $34,000 Spy Coast Farm 1.45m speed class on Friday afternoon at the 2015 Winter Equestrian Festival (WEF). Jumping in the International Arena at the Palm Beach International Equestrian Center (PBIEC), Springsteen jumped the fastest clear round out of 73 entries to beat out Andrew Ramsay (USA) and Welfare (2nd) and Lillie Keenan (USA) with Balance (3rd).
Suncast® is the title sponsor of week seven at WEF. Competition runs February 18-22 featuring the $372,000 Suncast® CSI 5* Grand Prix on Saturday, February 21, which will be live streamed at http://bit.ly/1vLyjbV. The $85,000 Suncast® 1.50m Championship Jumper Classic will be the highlight on Sunday morning and livestreamed at http://bit.ly/181N0m0. The 12-week WEF circuit continues through March 29, 2015, awarding over $8.2 million in prize money.
Steve Stephens (USA) set the speed track for Friday's 1.45m competition with 23 clear rounds out of the 73 starters. Shane Sweetnam (IRL) and Spy Coast Farm LLC's Cyklon 1083 set an early lead in 60.17 seconds, but eventually finished fifth. Springsteen and Davendy S pushed them out of the top spot with their time of 57.50 seconds. Ramsay and Shalanno Farms LLC's Welfare jumped into second place in 58.84 seconds. Emanuel Andrade (VEN) and Nokia de Brekka took fourth in 60.16 seconds, and Lillie Keenan completed the class in third with a time of 60.10 seconds aboard Chansonette Farm LLC's Balance.
Springsteen has jumped some of the fastest rounds in WEF's international competition lately, but has had some mistakes that kept her out of the winner's circle. She was happy to get the win on Friday with Davendy S or 'Annie,' her 12-year-old Belgian Warmblood mare (Kashmir van Schuttershof x Pachat II).
"It is definitely nice to win. I am so happy," Springsteen smiled. "A few weeks ago we would have won the WEF (Challenge Cup), and then I had the last rail yesterday and we would have won, so I am happy to finally get it right. I was going in the ring today and Nick (Skelton) was like, 'Do not knock the last jump down.'"
"She is so fast and competitive and consistent," Springsteen detailed. "I know exactly how she is going to be every time I go in the ring, which is really nice. She makes it easy for you. If you tell her to go, she wants to go, and she wants to win."
"I had a pretty clear plan today," the rider explained. "I was able to watch most of the class go, so I knew what I needed to do and that is always helpful. She is just such a fast horse across the ground and in the air. Even the other day, I added strides in a bunch of places and I still had the leading time. She is so quick on her own, so that is obviously a very helpful advantage."
The unusually cold weather this week has had a lot of the horses feeling fresh, and Springsteen used that to her advantage as well.
"I don't have to do anything with her in the morning, she is always so quiet and so good, but I think the weather definitely gives them a little extra energy. She felt really good today," Springsteen noted. "She is really sweet, and she is very calm. She is perfect always, all around."
Also showing in the International Arena on Friday, Georgina Bloomberg (USA) and Gotham Enterprizes LLC's South Street won Section A of the $6,000 Spy Coast Farm 1.40m Speed Challenge in a California Split, with Laura Chapot (USA) and Mary Chapot's Shooting Star on top in Section B.
Final Results: $34,000 Spy Coast Farm 1.45m Speed
1. DAVENDY S: 2003 Belgian Warmblood mare by Kashmir van Schuttershof x Pachat II
JESSICA SPRINGSTEEN (USA), Stone Hill Farm: 0/57.50
2. WELFARE: 2003 KWPN gelding by Pacific x Zortin
ANDREW RAMSAY (USA), Shalanno Farms LLC: 0/58.84
3. BALANCE: 2006 KWPN gelding by Cantos x Peter Pan
LILLIE KEENAN (USA), Chansonette Farm LLC: 0/60.10
4. NOKIA DE BREKKA: 2001 Selle Francais gelding by Quick Star SF x Apache d'Adriers
EMANUEL ANDRADE (VEN), Emanuel Andrade: 0/60.16
5. CYKLON 1083: 2001 Swedish Warmblood stallion by Cardento x Cortus
SHANE SWEETNAM (IRL), Spy Coast Farm LLC: 0/60.17
6. AZIBANTOS: 2005 KWPN gelding by Chin Chin x Cantos
MCLAIN WARD (USA), Group C LLC: 0/60.94
7. ROSIERE VESQUERIE: 2005 Selle Francais mare by Narcos II x Arpege Pierreville*HN
LAUREN TISBO (USA), Tequestrian Farms LLC: 0/61.83
8. LEAP OF JOY: 2001 Holsteiner gelding by Lovari x Silbersee
CHARLIE JACOBS (USA), CMJ Sporthorse LLC: 0/61.93
9. UNEX ARANTOS: 2005 KWPN gelding by Concorde x Hamlet
TIM GREDLEY (GBR), Unex Competition Yard Ltd: 0/61.94
10. BONJOVI: 2006 KWPN gelding by Verdi x Corland
EMANUEL ANDRADE (VEN), Emanuel Andrade: 0/62.42
11. CHICAGO Z: 1999 Zangersheide stallion by Caretano Z x Cor de la Bryere
BRUNO PASSARO (ARG), Bruno Passaro: 0/63.92
12. ADARE: 2005 KWPN mare by Royal Bravour x Burggraaf
LAUREN HOUGH (USA), Paris Sellon: 0/63.97
Photo Credit: Photos © Sportfot, An Official Photographer of the Winter Equestrian Festival, us.sportfot.com. Press Release WEF