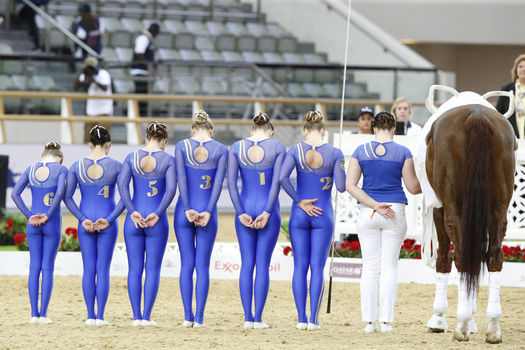 Vaulters opened the competition at CHI AL SHAQAB 2015 with their compulsory tests on Monday, making the prescribed eight moves a show of gymnastic excellence.
Anna Cavallaro from Italy, German Thomas Brüsewitz and the Swiss team of Lütisburg laid the basic claim for the final result scheduled for Wednesday.
The female individuals achieved the highest scores of the day with the world's No. 2, Anna Cavallaro from Italy leading the field of twelve on 8,315, besting a favourite Joanne Eccles from Great Britain on 8,070. Between the two it was a match of long standing partnerships. For 18 of her 29 years of age, Cavallaro vaults with lunger Nelson Vidoni. The horse Harley belongs to that trio for six years now. "Harley was fantastic", the silver world champion said afterwards. Joanne Eccles vaults with Bentley for 16 years and has her father John at the lunge. Third placed Corinna Knauf bagged 7,972 points with her sister Alexandra lunging Fabiola, who scored 8.300, making her the best horse of the day. Austrian Lisa Wild suffered a big disappointment when Zygo, lunged by Dutch Maurits de Vries, showed a case of nerves. The World cup winner from the finals in Graz two weeks ago now trails the competition.
German Thomas Brüsewitz achieved the top score of 8.082 in the Men's competition, despite what he called "some mistakes in the scissors." Austrian Stefan Csandl ranks a surprise second on 7.860, teaming up with Nolan and Dutch Marjo Sneekes at the lunge line. Competing in Doha for the second time he was ecstatic about his performance and looks forward to the technical programme of Tuesday. "With the new technical movements a premiere for all vaulters, the cards will be reshuffled." Csandl broke the phalanx of five German vaulters at the top: World's No.2 Erik Oese is third, followed by Daniel Kaiser, Viktor Brüsewitz and Julian Wilfing. World Cup winning favourite Nicholas Andreani slipped down to 8. place after nearly missing to stand his dismount. "I did not do any compulsory training since the World Equestrian Games", he explained with the focus on the World Cup which t is freestyle only.
The team competition was wide open for the Swiss squad after last years' winners from Cologne had to forfeit the start when their horse Holiday on Ice E went lame in the morning. On 7.706 the Swiss silver world champions from WEG 2014 outclassed the other three teams by a wide margin. Laura Carnabuci's Italian C.I.M. squad has three new members and scored 6.542, besting Sweden and Denmark.
The German squad's drama had ruled during the day when lunger Alexandra Knauf found the horse Holiday on Ice E lame at the morning's training. "Our freestyle is too difficult to perform it on a horse that is not used to the task", the German team chief Torben Jacobs opted to scratch the team instead of trying to enroll another horse and scale down the freestyle. "There were tears when this decision was made," Jacobs commented the Cologne vaulters' reaction. After winning the competition in 2014, especially the new members of the squad had been keen on trying to repeat their success. "Doha is a very special competition and it is not only about the money but about the reputation to have competed here."
Holiday on Ice E was not the only problem horse for Cologne. Echt Stark, meant to go for both German pairs, opening their competition on Tuesday, was not fit to compete as well. "There seems to be some bad luck here for us," said a disappointed Jacobs. "But that is the sport with horses. Their welfare is paramount."
Ranking after Compulsory:
Squads
1.Team Switzerland/Lütisburg ​7.706
2.Team Italy/C.I.M.​​​6.,542
3.Team Svea Vaulting/ Sweden ​6.509
4.Team Denmark – VKT 1​​5.782
Individual Female:
1.Anna Cavallaro (ITA)​​8.284
2.Joanne Eccles (GBR)​​8.070
3.Corinnna Knauf (GER)​​7.972
4.Simone Jäiser (SUI)​​7.960
5.Christine Kuhirt (GER)​​7.632
Individual Men:
1.Thomas Brüsewitz (GER)​​8.082
2.Stefan Csandl (AUT)​​7.860
3.Erik Oese (GER)​​​7.776
4.Daniel Kaiser (GER)​​7.731
5.Viktor Brüsewitz (GER) ​​7.647
Quotes:
Rikke Dam, coach for Denmark:
On Al SHAQAB facilities:
"We don't have this kind of facilities. When we went to the Nordic Vaulting championship in Sweden once we could not show our high movements because the roof was too low. That is definitely not the case here."
Tuesday the competitions start at 15:00 and tickets can be purchased at Venue in AL SHAQAB or in Virgin Megastore.
CHI AL SHAQAB 2015 is proudly sponsored by ExxonMobil Qatar and is held in partnership with Qatar Aiways. CHI AL SHAQAB 2015 is organized under the patronage of His Excellency Sheikh Mohammed Bin Hamad Al Thani and Her Excellency Sheikha Al Mayassa Bint Hamad Al Thani.
Press release CHI AL SHAQAB